Hydro-BPT represented at ENVIRON 2013 Conference, 30th Jan – 1st Feb NUI Galway, Ireland.
The Hydro-BPT team was represented at the 23rd Irish Environmental Researchers Colloquium in NUI Galway by Dr Aonghus McNabola and John Gallagher for the three day event. The ENVIRON conference was organised by the Environmental Sciences Association of Ireland (ESAI) and aims to brings together people from various environmental backgrounds from both research and industry in Ireland and beyond. The conference theme is 2013 was entitled "Environment: From Ecosystem Functioning to Human Health" and an oral presentation was given in the Environmental Management session and a project poster was displayed under the Climate Change theme by the Hydro-BPT team. The research carried out by the Hydro-BPT team fitted well with the theme of the opening Q&A conference debate "Securing Ireland's Energy Future" which took place on the opening evening of the ENVIRON conference.

The oral presentation given during one of the Environmental Management sessions by John Gallagher was entitled "Life Cycle Energy and Environmental Balance of Micro-Hydro Turbines in the Water Industry: An Ireland-Wales Context".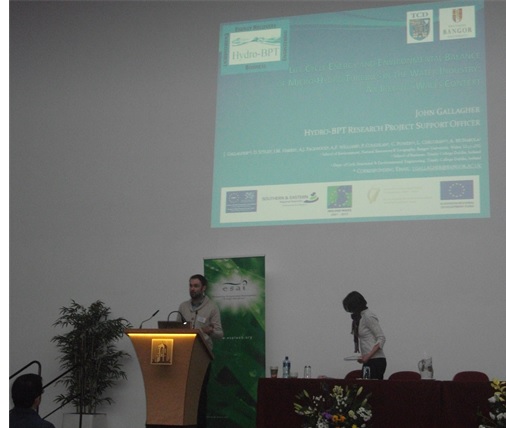 John Gallagher presenting aspects of Life Cycle Energy and Environment Balance of Hydro-BPT project at ENVIRON 2013.

The project poster was also on display during the conference and was entitled "Energy Recovery in the Water Industry: A Technical, Environmental and Economic Feasibility Study in Ireland and Wales" and gave a detailed overview of the Hydro-BPT project.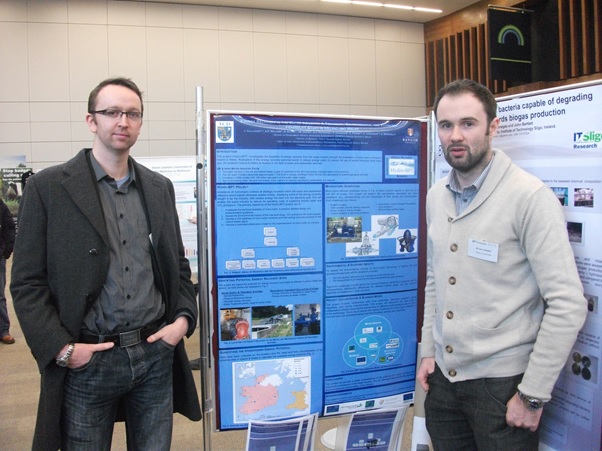 Aonghus & John present Hydro-BPT project at ENVIRON 2013.
The annual ENVIRON conference was a useful event for the dissemination of the research carried out by the Hydro-BPT team to a research and industry audience from all corners of Ireland. From the opening Q&A session of the conference, the future of energy in Ireland is a challenge and projects such as that of Hydro-BPT will pave the way for improved sustainability in the industry and reduce the associated environmental impacts associated with the energy demands of the water sector.
Publication date: 4 March 2013